Wednesday, January 20, 2010
708,555 views and growing: Coca-Cola scores viral video success

It's called the Happiness Machine video and it's a huge success for Coke's Atlanta-based interactive agency Definition 6. It ties in with Coke's ongoing "Open Happiness" global marketing campaign and is only seen online.
Link to the details
"Coke set up a special vending machine on a real college campus and rolled footage of students' surprised and delighted reactions as the machine proceeded to dispense everything from free bottles of Coke to flowers, a whole pizza, a six-foot sub and balloon animals."
The video was shot in Queens, N.Y., on campus of St. John's University.
Link to view the video
12:49 pm est
Monday, January 18, 2010
What's black and white and read all over? Remember that old ditty?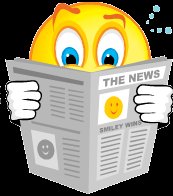 Answer: Affiliated Media Inc., the holding company for MediaNews Group, publisher of The Denver Post and Boulder Daily Camera.


And for those typo hunters and AP Stylebook thumpers, "red" would be the more correct spelling, because the group announced this past Friday "that lenders have approved a plan to restructure the company and significantly reduce $930 million in debt.

The agreement swaps debt for equity, retains the current management team and excludes all of the company's 54 daily newspapers and other media operations, according to announcement. The plan will be implemented in the near future through a prepackaged Chapter 11 bankruptcy filing."


So yes, red would be for the ink color of Affiliated's financials. Link to The Denver Post Financial Reporter Aldo Svaldi's overview of the debt reduction pact.

We hope all this goes well, as the Post needs its parent company financially sound, especially after last year's closing of the Rocky Mountain News. Being a "no major newspaper" city would truly be bad news for Denver.


From New York magazine: "where the news comes from"
We all know about new media and how traditional news sources are rapidly changing.

On that note, New York magazine ran an article this past fall that "walks back" a single day's top stories. We thought you'd enjoy the overview.


Article link
First pdf roadmap
Second pdf roadmap


More to come on this subject. . .of course!
4:43 pm est
Thursday, January 14, 2010
Denver's Project C.U.R.E. - Help For Haiti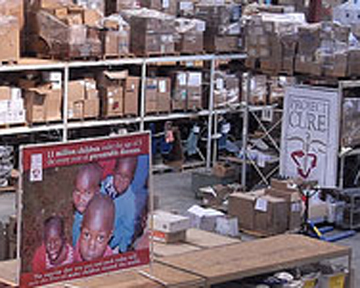 It's hard to keep the people of Haiti out of our minds right now. And yesterday I was reminded by Marian Robinson at Baxa Corporation about one of our own Denver-based world aid organizations helping Haiti. Here's more:
From
Project C.U.R.E.'s blogpost
yesterday:
"Your donations will help PROJECT C.U.R.E. deliver much-needed medical relief to Haiti. PROJECT C.U.R.E. is currently working to organize collections of supplies and equipment at various locations in its four distribution center cities -
Denver
,
Phoenix
,
Nashville
, and
Houston
. A list of requested items is below.
You can also donate online to help fund the delivery of supplies to people in need in Haiti.
Donate now.
Select "2010 Haiti Earthquake Relief" from the fund designation menu or type in "Haiti" in the fund designation text box.
Band-Aids
Gauze
Medical tape
Baby bottles and baby equipment
Baby diapers and wipes
Disinfectant and other skin-cleaning products"
The Denver Business Journal covered this as well. Link to the DBJ posting

Profile of Project C.U.R.E. by ColoradoBiz: Link to the profile
1:10 pm est
Wednesday, January 13, 2010
2010 PR Trends and Predictions (it's that time of year)

I'd tweeted a link to this well-thought-out PR Tactics piece by Tony Sapienza and Paula Slotkin last week, with a number of resulting retweets (
http://twitter.com/denverpr
)
.
From social media becoming "a part of every PR professional's daily routine"
to mobile devices will emerging "as a channel for a broader base of PR campaigns," I think you'll find it a good read.

1:10 pm est
Tuesday, January 12, 2010
Denver Radio – top ten stations, according to a new metering method

There's a new sheriff in town when it comes to radio listenership monitoring. And, Joanne Ostrow at the Denver Post explains it all in the morning paper. Easy listening KOSI is now #1 for the December 2009 period and KOA is #10, according to the article:
1)KOSI - http://www.kosi101.com


2)
KRFX - http://www.thefox.com


3)
KALC - http://www.alice1059.com

4) KTCL - http://www.ktcl.com
5) KBCO - http://www.kbco.com
6) KXKL - http://www.kool105.com
7) KQMT - http://www.995themountain.com
8) KIMN - http://www.mix100.com
9) KQKS - http://www.ks1075.com

10) KOA - http://www.850koa.com

For all the details, pickup a copy of today's Post or read it at the website.
3:10 pm est
From the Denver Business Journal's Bruce Goldberg: now we can all pretend to be ad agency Mad Men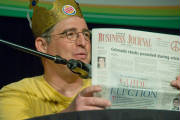 Street Talk columnist Bruce Goldberg at the Denver Business Journal (and fearless and successful leader of the Denver Press Club) shares a nice write up this week about the Envision Group's creative ad agency game, the Advertising + Branding Agency Playset – both a boxed game (utilized as a creative direct mail for the holidays) and website version.
Says Bruce, "it's funny and clever." And, when Bruce shares a compliment, consider it real.
Check out "Ad-Vice" at the column and thanks to Bruce Goldberg for the heads up on some great ad agency creative in Denver. Personally, I'm hoping I get to be Peggy Olson.
1:21 pm est
Sunday, January 10, 2010
The Obama billboard in Times Square: advertising faux pas or PR stunt?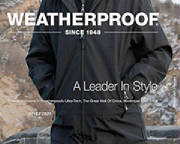 Guess who popped up in a Times Square this past Wednesday endorsing a Weatherproof jacket? None other than our Commander & Chief, but it turns out according to media coverage that he (of course) didn't approve commercial use of his image and Weatherproof has promised the billboard will be down in two weeks.
In the interim however, the advertising project has turned into a media darling (or was that the reason for the billboard in the first place?) and coverage has spread across the planet. Link to the
Associated Press
story that started the media frenzy (
Google
reports 7,677 related posts this morning).
I originally read about this in my trusty
Denver Post business section
-- but here are some other related links of interest:
CBS News
Esquire - The Daily Endorsement Blog
New York Times
Huffington Post
(you can even vote whether you think Weatherproof had the right to use Obama as their model?)
There you have it -- one of my former clients who always wanted to do out of the box promotions, would have had this to say: "better to ask forgiveness than permission." The Weatherproof folks apparently operated on this model in achieving worldwide media exposure for their brand.
1:49 pm est
Friday, January 8, 2010
Anatomy of "going viral" on Facebook with your bra color

Being a Facebooker I, of course, noticed those odd color remarks from my friends yesterday -- orange/pink was the hippest and black was pretty much the norm. I had a client report to put together so I gave it little thought until I received this forwarded message early evening:

"Some fun is going on…. just write the color of your bra in your status. Just the color, nothing else. And send this on to ONLY girls, no men …. It will be neat to see if this will spread the wings of cancer awareness. It will be fun to see how long it takes before the men will wonder why all the girls have a color in their status. Pass it on & be sure to do your breast self-exams!"

So I had the answer now...bra colors with a weak tie to breast cancer awareness. I had no inclination to post anything since I was a tad behind the viral power curve. So out of curiosity this morning, I Googled and found out that no one knew why or who (was it started by a woman in Detroit?). But, a viral happening had indeed occurred.

I did find one posting that treated it like a white paper, complete with citations to Mayo Clinic, National Breast Cancer and Twibbon: take a look.

Mostly there was just a lot of joking, criticism and plenty of negative prattle:

Newsweek's Human Condition Blog

Mashable

Holy Kaw!

So, note to self: file under this one under going "viral" and missing the mark.
12:00 pm est
Thursday, January 7, 2010
PR coup kudos... KFC gets ink in Boston and Denver dailies for Indiana promotion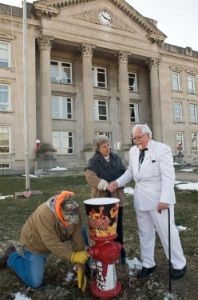 Today I'm passing congrats to my PR colleagues on the YUM Brands/KFC account. I found the their placement in today's Denver Post business section (
http://www.denverpost.com/headlines/ci_14137054
):
1) An AP picture of Brazil, IN, Mayor Ann Bradshaw posing with a Colonel Sanders look-alike by a fire hydrant emblazoned with KFC advertising -- tied in with promoting KFC's new fiery chicken wings, according to the copy
2) KFC is giving $7,500 to two Indiana cities (Brazil and Indy) to help pay for new fire hydrants and extinguishers. In turn, KFC messaging appears on the hydrants and extinguishers.
A Google search also turned up Boston Globe ink for the promotion, this one featuring Indianapolis Mayor Greg Ballard and the fire extinguisher angle (plus Google indicates
287 other exposures
):
http://www.boston.com/business/articles/2010/01/06/kfc_markets_fiery_wings_on_fire_hydrants/
Further, here's a link to the Business Wire campaign that started all this:
http://www.businesswire.com/portal/site/home/permalink/?ndmViewId=news_view&newsId=20100106005527&newsLang=en
12:18 pm est
Wednesday, January 6, 2010
And the first "Great PR Program" of the year goes to Colorado's Celestial Seasonings

This is a PR program that I just had to gush over this morning. I read about it in the Denver Post and headed straight to take the Facebook quiz -- www.facebook.com/CelestialSeasonings. So why am I gushing:

1) This is an great use of a Facebook fan page. Social media at it's best.

2) Social media collided with traditional PR. Where did I find out about it? In a traditional media placement in the Denver Post. Google news has seventeen results currently listed.

3)This program incorporates corporate giving -- Celestial Seasonings will donate one dollar on behalf of each Facebook quiz participant, totaling up to $50,000, to Conservation International's "Protect an Acre" program.

4) Last but not least, January is "hot tea month" -- we PR people love PRing special months, days, weeks, etc. It's part of our DNA.

So, kudos to those creative Hain Celestial PR people http://www.hain-celestial.com/ for a 4-star program. Note to self: put this "great PR program" in my good idea file (the first one of 2010).
11:42 am est
Tuesday, January 5, 2010
Bad PR Stunt Playhouse
Just this morning I got to look over the Ad Age take on the recent Majorska Vodka PR Stunt. It's a good read if you have a few minutes:
http://adage.com/adages/post?article_id=141281
To quote the best parts:
"The company put out a press release claiming that the lack of alcohol sales at the stadium would cost it $100,000 in revenue due to lost "tailgate parties," and it urged consumers to boycott Johnson & Johnson products because of the company's family connection to Jets' owner Woody Johnson. (The brand even circulated petitions in bars.)


This is, of course, completely absurd and obviously untrue: A ban on in-stadium sales doesn't limit tailgating at all, and vodka sales -- particularly of bottom-shelf brands such as Majorska -- make up only a tiny fraction of in-stadium booze sales (which are dominated by beer).


But that didn't stop the transparent, craven media ploy from grabbing headlines in the New York Times (where it appeared as a brief in print, before being updated in a blog post), on CNN.com and in the New York Post, as well as on numerous blogs."

And to quote my late Grammy, "paper doesn't refuse ink...don't believe everything you read."

1:23 pm est