Monday, August 9, 2010
WebCPA: Holben Hay Balzer name change

"Holben Hay Husman, Denver, has changed its name to Holben Hay Balzer CPAs LLC in recognition of the influence and contributions of Sheila Balzer. Balzer had been with Husman & Co. since 1994, prior to its merger with the Holben firm in 2001."
Link to WebCPA (Accounting Today)
4:20 pm edt
Absolutely Public Relations Named PR Agency of Record for Denver-based Accounting Firm Holben Hay Balzer CPAs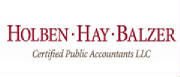 Colorado public relations consulting firm, Absolutely Public Relations, is the PR agency of record (AOR) for the Denver-based accounting firm, Holben* Hay*Absolutely PR Owner/Founder Maggie Chamberlin Holben, APR, who says, "HHB's PR effort launched in June with its name change announcement from the Holben Hay Husman moniker used during past decade. A PR campaign focusing on Sheila Balzer's appointment to the Colorado Society of Certified Public Accountants (CSCPA) followed in July." Link to the related messaging:
Name Change Rollout:
http://www.prweb.com/releases/Holben_Hay_Balzer/06/prweb4166214.htm
Sheila Balzer CSCPA Board Appointment:
http://www.prweb.com/releases/2010/07/prweb4234394.htm
Link to today's PR Newswire Agency Roster
Link to the PR Web newswire
* For full disclosure, both Holben and Hay are Maggie Holben's first cousins by marriage.
4:15 pm edt