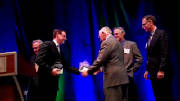 The Colorado BioScience Association (CBSA) honored the outstanding bioscience companies and individuals in the state during its 9th Annual Awards Dinner at the Downtown Denver Embassy Suites. The CBSA's Annual Awards program showcases the significant achievements in the state's bioscience industry throughout the year.
Recipients of 2011 awards include:
Lifetime Achievement Award - Brian, Greg and Jeff Baldwin

Brian Baldwin founded Baxa Corporation in 1975 and grew the company steadily over the succeeding 36 years along with the leadership of sons Greg and Jeff. Creating technology that saves patient lives, Baxa Corporation provides innovative, solution-based technologies for fluid handling and delivery. Its systems and devices promote the safe and efficient preparation, handling, packaging, and administration of fluid medications. Visit:
http://www.baxa.com
Company of the Year - LABS Inc.
LABS, Inc. has grown to service clients across many healthcare industries over the past 30 years. Recently, they added a Cell and Molecular Biology Department to their already growing business. Labs Inc. has been the market leader in laboratory testing for Infectious Disease, Microbiology, and Immunogenetics. Visit:
http://www.labs-inc.org
Rising Star of the Year - Ventria Bioscience

Ventria Bioscience is the first company to commercialize recombinant proteins derived from a plant-based manufacturing system. Ventria's technology platform ExpressTec is a safe, affordable and sustainable manufacturing technology that achieves recombinant protein yield that is many times higher than alternative systems. Visit:
http://www.ventria.com
Volunteer of the Year - Timothy Rodell, M.D. President and CEO, GlobeImmune

Timothy Rodell's leadership and community involvement has greatly contributed to Colorado's bioscience industry. He contributed significantly to Senator Bennet's Colorado Competes Report as a member of the Innovation Roundtable. He also has been a voice at the federal level with a seat on BIO's national Board leading our industry forward. Visit:
http://www.globeimmune.com
Educator of the Year - Melissa Reynolds, Ph.D., Assistant Professor of Chemistry, Colorado State University

Melissa Reynolds Ph.D. joined the Colorado State University faculty in 2009 as an Assistant Professor of Chemistry and is a participating faculty member in the School of Biomedical Engineering. In addition to teaching graduate and undergraduate courses she has organized professional development and entrepreneurship programs and mentored over 25 multidisciplinary students. Her positive leadership and encouragement has been continually evident to her colleagues, funders and the bioscience community as a whole. More about Dr. Reynolds:
http://www.news.colostate.edu/Release/5620
Business Partner of the Year - Ernst & Young

Ernst & Young has been a strong partner for over seven years helping to move Colorado's bioscience industry forward. They have provided excellent service to the industry with expertise and dedication to our companies. Visit:
http://www.ey.com
Legislator of the Year - State Representative Cheri Gerou

Representative Cheri Gerou has shown continued support for the bioscience community. She was involved in introducing and enabled the passage of HB 1283 and SB 47 to extend and further fund the Bioscience Discovery Evaluation Grant Program. Visit:
http://cherigerou.com
Chairman's Award - Johnson & Johnson

Johnson & Johnson's dedication to advocacy and strategic development as an industry leader has advanced bioscience in Colorado. The company has continually supported CBSA's efforts to advance the regional bioscience community including the development of CBSA's Rocky Mountain Life Science Investor Conference and presence on the Board of Directors. Visit:
http://www.jnj.com
Chairman's Award - U.S. Senator Michael Bennet

Senator Michael Bennet has championed Colorado's bioscience issues at the Capitol on several major issues including spearheading the Colorado Innovation Economy Committee and the "Colorado Competes" report, of which CBSA co-chaired; a CEO roundtable event with FDA Commissioner Hamburg; and The Medical Device Regulatory Improvement Act, introduced to boost Medical Device innovation and FDA reform. Senator Bennet leadership and perseverance continue to benefit the bioscience community as a whole. Visit:
http://bennet.senate.gov
Link to the Business Wire newswire