Monday, July 16, 2012
DBJ: 'Fitzsimons changes focus to better nurture startups'

Quoting from the article by Greg Avery on Steve VanNurden, recently appointed Pres/CEO of the Fitzsimons Redevelopment Authority:
"VanNurden's hiring completes a shift making the FRA less of a real estate organization and one more focused on helping to attract and find resources for medical and technology businesses that want to be in the park.
'Rather than make this a real estate play, we're going to make this a biosciences community,' he said. 'We have all the ingredients to be able to do that; we just need to put them in the right places.'. .
. . . . Near VanNurden's office door, construction workers are finishing the interior of an $8 million expansion of the building that houses the FRA headquarters and 3½ floors of labs and offices for 38 bioscience startups, most of which come from the university labs across the street.
The new wing was considered speculative development when it was announced two years ago, but demand for it proved strong.
The expansion opens July 25, and it will be 90 percent occupied. Four companies — Isogenis, Inc., LightLabs, Mitomics and Touch of Life Technologies — are moving in. They outgrew their space in the bioscience incubator building, said Vicki Jenings, the FRA's director of business relations.
VanNurden hopes the growth of companies incubated on the campus will drive demand for more buildings, and that some large companies result from the homegrown tenants.
He plans to look beyond the FRA's immediate surroundings for tenant companies. He envisions the park one day attracting computer technology companies and clinical-trials management companies, not just strictly drug and medical-device research companies. . .
. . . On July 3, VanNurden realized a longtime industry contact had a layover at DIA. VanNurden — who declined to identify that person's company, saying only that it's well-known — picked up the person and his colleagues, and gave them an impromptu tour of Fitzsimons and information about the work being done on the campus before returning them to DIA.
'They didn't know what this was, and they were very interested to discover what's going on here,' he said."


6:46 pm edt
Wednesday, July 11, 2012
9News Denver: 'Colo. bioscience industry, patients to benefit from new law'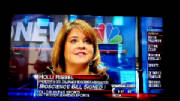 CBSA Pres/CEO Holli Riebel
interviewed with 9News yesterday regarding the new federal law that cuts the FDA's approval timetable for new drugs. Quoting from the 9News posting:
"Supporters say the bill would benefit hundreds of Colorado startups that are developing novel medicines and therapies. They say the provision could also help severely ill patients who are willing to take experimental drugs that haven't undergone the full battery of tests for all possible side effects and complications...
...About 600 bioscience companies, research institutions and venture capital groups in Colorado employ about 20,000 people, and the industry continues to grow despite the sluggish economy, according to the
Colorado Bioscience Association
."
Link to the video report
or view here:
http://www.9news.com/rss/story.aspx?storyid=277012
12:39 pm edt
Tuesday, July 3, 2012
LifeScience: 'Aurora Bioscience district gets new boss with big experience'

Quoting from the July 3 Aurora Sentinel article by Brandon Johansson:
"Steve VanNurden is excited for the new expansion wing at the Bioscience Park Center, Thursday afternoon, June 28, at the Fitzsimons Life Science District. VanNurden took over as President and CEO in late May...
...That growth and the momentum he sees being built was what drew VanNurden from Mayo Clinic Ventures in Rochester, Minn. to the FRA.
VanNurden started at Mayo 22 years ago after a career with agriculture-industry giant Cargill.
A few years prior, Mayo had launched Mayo Clinic Ventures, which aimed to take the world-class research happening at Mayo, and turn it into bioscience and biotechnology companies.
Since then, he helped start about 50 individual companies.
That ability to take the ideas that sprout from medical research and turn them into profitable companies has local officials excited about VanNurden's arrival at the FRA.
Mark Spiecker, CEO of Sharklet Technologies, one of the 39 companies at the FRA's Bioscience Park Center, said VanNurden is the perfect fit for the organization.
Across the health-care industry, Mayo is seen as a model for technology development and funding, Spiecker said, and Mayo Clinic Ventures is well-known as a place where breakthrough technologies become startup companies.
'Having a guy that used to run that program is a great opportunity for us,' he said.
Holli Riebel, CEO of the Colorado Bioscience Association, said landing VanNurden was a sign that Colorado's burgeoning bioscience industry is gaining credibility around the country. 'I think it's a real coup for us to be able to attract Steve,' she said.
His background with starting bioscience companies will be ideal at the FRA, where officials have announced an enhanced focus on building relationships with the rest of the state's bioscience industry, she said.
'That's really what we're trying to do,' she said."
Link to the full article
11:41 am edt
Sunday, July 1, 2012
New Data Shows Colorado Bioscience Industry Outpaced National Growth Since 2001 and Continued Adding Jobs Overall Since 2007
Quoting New Battelle/BIO Report: "Colorado's bioscience industry is large and has outpaced national growth since 2001 by continuing to add jobs overall since 2007. Its companies employ nearly 27,000 with the large and highly specialized state medical device and equipment subsector growing by 16 percent since 2001. Job growth in research, testing, and medical labs has also driven overall sector growth since 2001."
Link to the Business Wire release
Link to the PitchEngine Social Media newswire
3:38 pm edt