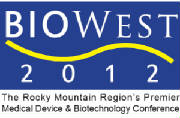 More than 40 exhibitors will be showcasing new technologies, products and services at the 2012 BioWest Conference and Expo -- the Rocky Mountain Region's premier medical device and biotechnology conference -- organized by the Colorado BioScience Association (CBSA), September 11, at the Marriott City Center, Denver. The announcement is made by CBSA Executive Vice President April Giles, who says: "The companies participating in the exhibit area are each playing an important role in helping advance the bioscience industry within the region. We're very pleased to welcome them to our ninth BioWest event and look forward to yet another exciting and successful conference."
BioWest brings together more than 500 industry leaders, government representatives, executives, researchers, investors and entrepreneurs from throughout the region. This year's national speakers for BioWest include Ginger Graham of Harvard Business School and past president of Amylin Pharmaceuticals and Mike Huckman former CNBC biopharma and medical device industry reporter-turned-PR pro.
BioWest provides the region's bioscience community opportunities to network, learn from one another and collaborate to grow the industry. Exhibitors confirmed to date include:
ARAMARK Cleanroom Services
http://www.aramark-cleanroom.com
Biomedical Systems
http://www.biomedsys.com
BiOptix
http://www.bioptixinc.com
BSI Group America, Inc.
http://www.bsiamerica.com
CARE Research LLC
http://www.careresearchllc.com
CascadeTek
http://www.cascadetek.com
CBIZ MHM
http://www.cbiz.com/cbizmhm-colorado
Charles River
http://www.criver.com
CSU Ventures
http://www.csuventures.org
Fisher Scientific
http://www.fishersci.com
Fitzsimons Life Science District
http://www.fitzscience.com
Flanders Investment and Trade – Belgium
http://www.flandersinvestmentandtrade.com
Grafik9
http://www.grafik9.com
ISEC Incorporated
http://www.isecinc.com
ITW Texwipe
http://www.texwipe.com
The Jackson Laboratory
http://www.jax.org
Just Animate Studio
http://www.justanimatestudio.com
LABS Inc.
http://www.labs-inc.org
Liquidyne
http://www.liquidyneusa.com
Merck and Co., Inc.
http://www.merck.com
Montana BioScience Alliance
http://www.montanabio.org
National Jewish Health Advanced Diagnostic Laboratories
http://www.njlabs.org
NextGen Pharma Technologies, Inc.
http://www.nextgenpharma.com
PCM Trials
http://www.pcmtrials.com
Phase Three Product Development
http://www.linkedin.com/company/phase-three-product-development
Pozzetta Scientific htt
p://www.pozzetta.com
Pre-Clinical Research Services
http://www.preclinicalresearch.com
Reglera
http://www.reglera.com
Ricerca Biosciences
http://www.ricerca.com
Robin Bond Media
http://www.robinbondmedia.com
Technical Safety Services, Inc.
http://www.techsafety.com
Thermo Fisher
http://www.thermofisher.com
Toxikon
http://www.toxikon.com
Ubiquity Group
http://www.ubiquitygroup.com
University of Colorado Tech Transfer Office
http://www.cu.edu/techtransfer
World Courier, Inc.
http://www.worldcourier.com
BioWest will also include the popular Venture Showcase competition, where five finalists come together and pitch their technologies and business plans in front of a live audience to a panel of bioscience experts and venture capitalists. The winner, announced at the end of the conference day, will receive a $7,500 cash prize. Finalists for the 2012 Venture Showcase competition are the following:
Flashback Technologies Inc. - Longmont, CO -
http://www.flashbacktechnologies.com
KromaTiD - Fort Collins, CO -
http://www.kromatid.com
Siva Therapeutics Inc. - Boulder, CO -
http://www.sivatherapeutics.com
SuviCa Inc. - Boulder, CO -
http://www.suvica.com
VetDC Inc. - Fort Collins, CO -
http://www.vet-dc.com
Sponsors for the 2012 BioWest Conference and Expo include: Founders Session Sponsor, Colorado Science + Technology Park at Fitzsimons; Keynote Lunch Sponsor, Ernst and Young ; Venture Showcase Sponsors, Dorsey and Whitney LLP, EKS&H, Metro Denver EDC; Track Sponsors, NextGen, Clinipace, Lonza, Sheridan Ross PC, Emerson Consultants; Lanyard Sponsor, Cooley; Closing Reception Sponsor, Wells Fargo; Co-track Sponsors, Medical Center of the Rockies, National Jewish Health Advanced Diagnostic Laboratories, DaVita Clinical Research; Conference Bag, CPC Clinical Research; Break Sponsor, BIO; and, General Conference Sponsors, Amgen, Fisher Scientific, Inviragen, Johnson & Johnson, PhRMA and TerumoBCT.
Link to the Business Wire release
Link to the PitchEngine Social Media Release