Monday, July 7, 2014
New Issue: Bioscience Colorado Magazine 2014-15 Article Overview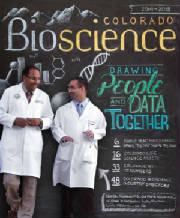 Make sure to check out these "great reads" -- and save the new directory for future use.

The complete flip book of the issue can be found online at:http://www.cobioscience.com/magazine2014flip-book/

Articles - Direct Links:

Mobile Health in Colorado: Where "Big Data" Sparks Big Ideas

Biodesix Harnesses Machine Learning and Analytics to Tackle Multivariate Diagnostics

Bioscience in Colorado Continues to Shine with U.S. Senator Michael Bennet

Colorado Life Science Assets: A Sophisticated Repertoire of Clinical-Stage Therapeutic, Device and Diagnostic Products

U.S. Hub: Colorado Is Where Drug, Device and Therapy Intersect

Boettcher Investigators: Webb-Waring Biomedical Research Program

Found in Translation: Rocky Mountain Lions Eye Institute Translational Research Programs Focus on Innovative Treatment of Eye Diseases

Tech Transfer Offices Connect the Dots between Research and the Marketplace, Stimulate State's Economy

Colorado Bioscience Industry by the Numbers: Financing and Acquisitions

Colorado Bioscience Grant Programs: Innovation Engines

Colorado Bioscience Industry Directory – updated company information – great to keep on file

Bioscience Colorado magazine is an integral part of the Association's mission to support the Colorado bioscience community through advocacy, resources and advancement of opportunities for collaboration. It reaches thousands of bioscience, economic development, legislative, university and industry leaders. Colorado's bioscience assets are also valuable. Device, diagnostic and therapeutic products created here have a significant economic impact—27,000 in total workforce— translating to over $10 billion in the State's economy each year. In addition, over 60 acquisitions, financings and grants, totaling over $4 billion, were reported within the 2013 calendar year, further developing the industry's ecosystem.

Download the new magazine pdf at: http://www.cobioscience.com/Magazine%202014/CBSA_magazine_061314-lowres.pdf
2:56 pm edt
Tuesday, June 3, 2014
Colorado BioScience Association Praises Boettcher Foundation As It Embarks on the Fifth Year of Its Webb-Waring Biomedical Research Program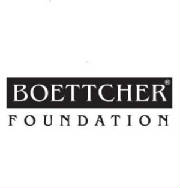 Seven early-career scientists are joining the ranks ofBoettcher Investigators in the Webb-Waring Biomedical Research Program, with today's announcement from Theodore F. Schlegel, M.D., Chairman of the Boettcher Foundation Board of Trustees.

"The Boettcher Foundation Board is pleased to celebrate our fifth class in this very specialized and important niche of biomedical research," Schlegel said. "Our investigators now number 29, and several of our early Investigators are already achieving significant advancements in their areas of research."

The 2014 Class of Boettcher Investigators in the Webb-Waring Biomedical Research Program includes:

* Kunhua Song, PhD, University of Colorado Anschutz Medical Campus, Assistant Professor of Medicine - Regenerative medicine and heart development/disease

* Roger A. Bannister, PhD, University of Colorado Anschutz Medical Campus, Assistant Professor of Medicine, Cardiology Division - Skeletal and cardiac muscle physiology

* Subhajyoti De, PhD, University of Colorado Anschutz Medical Campus, Assistant Professor of Biomedical Informatics and Personalized Medicine - Cancer genomics; lung cancer; somatic mutations; DNA damage and repair; algorithm development; optimization

* Loren Hough, PhD, University of Colorado Boulder, Assistant Professor of Physics - Structural biology of order and disordered proteins

* Christopher L. Gentile, PhD, Colorado State University, Assistant Professor of Food Science and Human Nutrition - Molecular causes of vascular dysfunction

* Amy B. Dounay, PhD, Colorado College, Assistant Professor of Chemistry and Biochemistry - Medicinal chemistry for African Sleeping Sickness

* Rachel L. Zemans, MD, National Jewish Hospital, Assistant Professor of Medicine - Resolution of Alveolar Epithelial Permeability after Lung Injury

"The new class of Boettcher Investigators represents some of the finest scientific minds in the state, and we are honored to have the opportunity to support their research, which has the potential to have significant impacts on human health," said Tim Schultz, President and Executive Director of the Boettcher Foundation.

Boettcher Investigators are awarded grants of $225,000, covering up to three years of research with a goal for these early-career scientists to establish themselves and become competitive for major awards from federal agencies and private foundations. With the addition of the 2014 Class, there are now 29 Boettcher Investigators conducting research in the following Colorado institutions: University of Colorado Anschutz Medical Campus, University of Colorado Boulder, Colorado State University, National Jewish Health, Colorado School of Mines and Colorado College.

The Webb-Waring Biomedical Research Program was created in 2008, as the result of an innovative agreement among the Boettcher Foundation, the Webb-Waring Foundation for Biomedical Research and the University of Colorado. Through the program, the Boettcher Foundation now invests more than $1.5 million each year into efforts to increase Colorado's competitiveness in biomedical science.

Link to the full release

Link to the related Business Wire release
6:02 pm edt
Wednesday, May 28, 2014
Well-Known Denver Real Estate Developer John M. Shaw to Oversee Properties in the Colorado Life Science District at Fitzsimons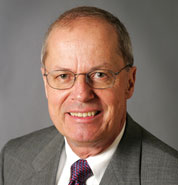 Fitzsimons Redevelopment Authority (FRA) has selected John M. Shaw as a consultant to oversee its real estate projects in the Colorado Life Science District at Fitzsimons. The announcement is made by Steve VanNurden, FRA President & CEO, who says, "John brings more than three decades of leadership and experience in successful real estate development, operational management and civic engagement to FRA's projects."

Over his career, Shaw has managed the development of more than 20 million square feet of commercial properties throughout the western United States. He recently left his position as Executive Vice President of McWhinney, a Colorado-based development company with significant assets in Loveland, Broomfield and Denver.

Further, VanNurden says, "John's extensive track record of successful real estate development projects makes him the ideal partner to continue the FRA's vision to build a world class life science district at Fitzsimons."

Link to the PitchEngine posting
4:00 pm edt
Friday, April 4, 2014
Happy 50th! to PRSA's Accreditation in Public Relations Program...and many more...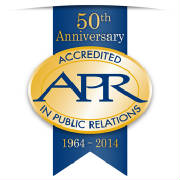 Background from the Public Relations Society of America (PRSA):

"2014 marks the 50th anniversary of the Accreditation in Public Relations (APR), the profession's only national credential. In addition, to celebrating the APR's position as the industry's gold standard for professional excellence, April has been designated as APR Month."

Maggie Chamberlin Holben, APR, has been an accredited PRSA member since 1985.

Here's a look back at Maggie's announcement from 1985 (no she hasn't been accredited the full 50 years that APR has existed)...that's a Columbia portable computer with dual floppy disk drives in the photo (you had to know DOS language to run it). The printer was dot matrix. Boom boxes were the iPod of the day. Maggie liked cats back then (notice the ceramic one on her desk):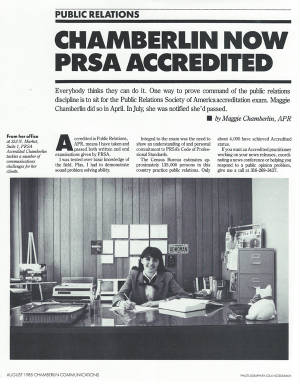 12:41 pm edt
Tuesday, March 11, 2014
Cat Care Society: Wed. March 19th: California Pizza Kitchen Raises Funds for Cats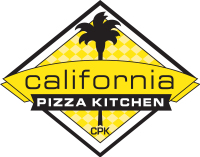 Feasting For Felines - Restaurant Fundraiser

California Pizza Kitchen locations in Denver, Boulder and Colorado Springs will raise funds for Cat Care Society all day Wednesday, March 19, 2014. Twenty percent of proceeds -- including dine-in, take-out, catering and all beverages -- go to Cat Care Society.

Just bring in this flier.
1:26 pm edt